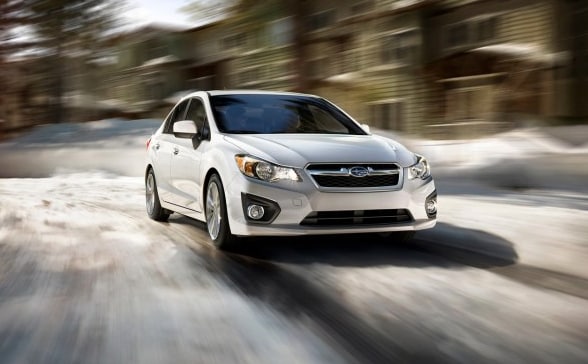 The IIHS recently announced that the 2012 Subaru Impreza is one of their top safety picks.
Silverthorne Subaru
enthusiasts will be happy to know that Groove Subaru in Silverthorne has this amazing car in stock and ready for you to drive home today.
Subaru of America released a press release detailing the announcement of the 2012 Impreza at the IIHS Top Safety Pick: "Subaru of America, Inc. today announced that for the third consecutive year, the Insurance Institute for Highway Safety (IIHS) has recognized it as the only manufacturer with a 2012 TOP SAFETY PICK winner for all models. The all-new 36 mpg
2012 Subaru Impreza
, the most fuel-efficient all-wheel drive vehicle in America, was awarded in the "Small Car" category."
Silverthorne Subaru Dealer has the 2012 Impreza in stock
That's a big award to win for any auto manufacturer. This isn't a first for Subaru, though. Tom Doll, executive vice president and COO of Subaru of America, Inc. said : "To be able to include the redesigned 2012 Impreza to the list is an outstanding success and a tribute to the engineering that goes into our products. The IIHS reinforces to our customers that Subaru maintains the highest standards to produce vehicles that are fun-to- drive, durable, reliable as well as safe."
The IIHS tests cars based on how accidents can occur in real life. That is why an IIHS safety rating is so important. With Subaru grabbing another of the IIHS Top Safety Picks, the Impreza is a perfect car to buy when keeping the safety of your family in mind.
If you're looking for a
Summit County Subaru
Dealership that has your values and concerns as our top priority, come by Groove Subaru in Silverthorne and visit with any of our knowledgeable sales guides.