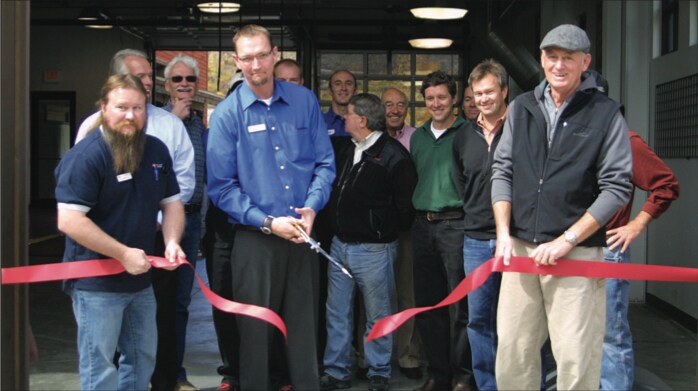 Photo above: Service manager Paul Edwards cuts the ribbon alongside staff members, Silverthorne Mayor Dave Koop and Silverthorne town council members at the ribbon cutting celebrating the new express service lane at Groove Silverthorne Wednesday.

Groove Silverthorne opens a new express service lane and adds 3 full-time employees after receiving a $10,000 grant from the Silverthorne Economic Development Advisory Committee.
Groove Silverthorne welcomed the Silverthorne Mayor Dave Koop, town council members and a robust crowd together to celebrate the opening of a new express service lane with the ribbon cutting if the new Express Lane.
Since Groove Auto opened the lane in July, it has serviced more than 850 vehicles and has reduced its average oil change and inspection time to a mere 11 minutes, according to service manager Paul Edwards.
"Our goal is to service 20 cars per day and we've been meeting that fairly consistently now," Edwards said. "If we continue to get busier, we anticipate hiring three more full-time positions."
The new service lane utilizes a previously unused portion of the dealership's building, and the new operation brings three new jobs to Silverthorne, with a positive outlook for more.
"The express service lane at Groove Silverthorne has dramatically improved our speed and overall efficiency for the quick-service needs of our customers," said Rob Meador, vice president of Groove Silverthorne. "The response from our customers has been very positive. I couldn't be more excited about the addition, it has allowed us to increase our work flow and realign our processes for a faster, smoother experience for our customers and our technicians," Groove's new express service lane provides basic vehicle service, including oil changes, tire rotations, wiper blades, air filter and bulb replacement. Groove's express service technicians work in teams to provide quick service to customer vehicles.
Funding for the new express lane was from Silverthorne's Economic Development Advisory Committee. The project was one of six selected for funding and was awarded a $10,000 grant.
"This particular project is a great example of what the EDAC and town council set out to accomplish with the grant program," said committee chair Eddie O'Brien. "This is a success story, Groove Silverthorne (express service lane), which has only been in business for eight weeks, has grown since they've opened, bringing new jobs to Silverthorne."
Groove Silverthorne is open from 7:30 a.m. until 6 p.m. Monday through Friday
Source: The Summit Daily, Article By Paige Blankenbuehler