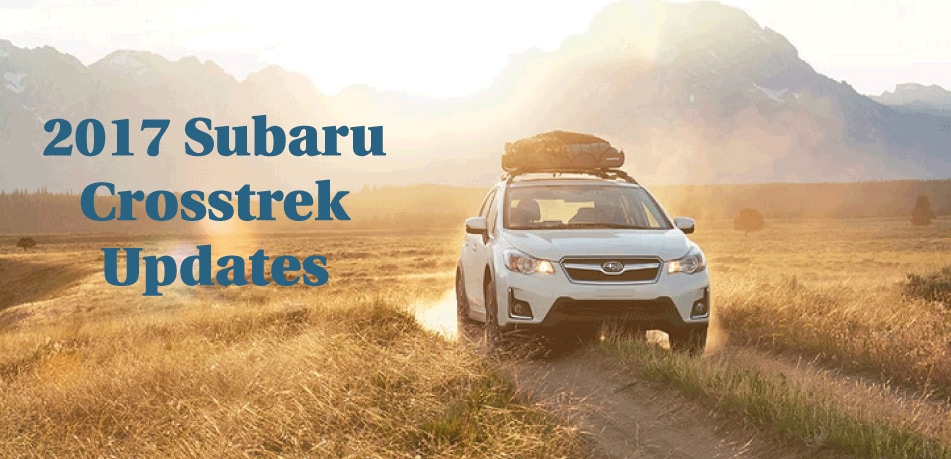 The Crosstrek has been an interesting part of Subaru's lineup for the better part of it's existence. Although it hasn't quite been as successful as its crossover brethren, the Crosstrek definitely has a small yet loyal following. There are some small Subaru Crosstrek updates that may be minor but these can definitely provide a solid value for any new car buyer.
Fresh for the 2017 model year, the Subaru Crosstrek receives several styling changes and upgrades that gives it a new look from inside and out. The new Subaru Crosstrek updates gives the car a new look that rivals the Impreza hatchback, while improving capacity and performance.
Inside the 2017 Subaru Crosstrek updates
Chassis changes - The all new Crosstrek will be slightly larger and bigger than past models. Raising the roofline 10cm in height, the Crosstrek will also be longer giving drivers more capacity. This makes the Crosstrek an exceptional crossover with larger cargo capacity and the right mix of off-road abilities.
Styling updates - Some of the most attractive features of the Crosstrek has always been the build quality and layout. Combining good looks and functionality, the new Subaru Crosstrek updates give the crossover a distinctive look and feel unlike any other. The interior and exterior upgrades put together superior materials to give the Crosstrek a slightly upgraded overall feel.
Interior - Subaru is making several changes across their product line for the 2017 model year. This includes a new standard feature of their 7 inch new infotainment system, which combines the very best of their Eyesight safety features and connectivity. The Subaru Crosstrek updates also include a changed center console and upgraded features.
Performance - The 2017 Subaru Crosstrek returns the previous engine options, starting with the base 1.6 liter engine. From there buyers can step it up to Subaru's 2.0 liter engine which provides a healthy increase in torque. For those who want the ultimate in performance, the turbocharged 2.0 liter diesel can be paired to a six speed automatic transmission.
Overall upgrades - Along with styling cues, the Crosstrek also receives a healthy change in suspension design and layout. The suspension upgrades to the new crossover highlight the 2017 Subaru Crosstrek updates. With a increased focus on ride quality and dampening, drivers can enjoy a ride that's comfortable at speed without sacrificing traction.
These Subaru Crosstrek updates give the new 2017 model year the best combination of finish and fitment. Excellent design quality includes the best of performance and styling, making the Crosstrek one of the best choices for the 2017 calendar year.
Buyers interested in an ultimate crossover, the Subaru Crosstrek updates can provide a level of performance and styling that's incredibly valuable. When you want the best in crossover performance, buyers can do a lot worse than the Subaru Crosstrek.
Browse our inventory of new 2017 Subaru Outback