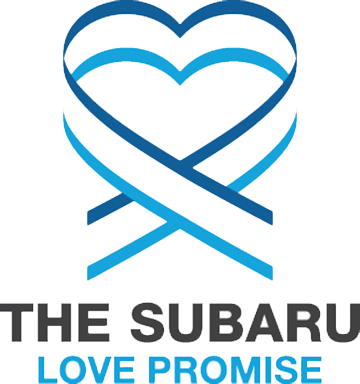 What is the Subaru Love Promise?
Subaru and our retailers believe in making the world a better place and the Subaru Love Promise is our vision of respecting all people. This is our commitment to show love and respect to our customers and to work to make a positive impact in the world.
How is Groove Subaru of Silverthorne dedicated locally to the Love Promise?
Our Love Promise can be seen in various partnerships with local charities and non-profits. We're grateful for the opportunity, not only to be a part of our community, but to serve it as well.
Summit county animal and shelter
Friends of the Dillion Ranger District
Love Promise Stories from Groove Subaru of Silverthorne
Subaru and Groove Subaru of Silverthorne believe in making a positive impact on the communities in which we live and work. We uphold that belief through our Love Promise Community Commitment. Every month, we select inspiring stories from customers and partners from around our area who strive to support our collective commitment and feature them here
Friends of the Dillon Ranger District Donation - Michele M
April 26th, 2022 Groove Subaru Silverthorne had the pleasure of presenting Mike Connolly and Doozie Martin from Friends of Dillon Ranger District with a $6,000 donation. These funds will help to support outdoor stewardship projects and improve National Forest trail conditions in Summit County. $3,000 of the donation was raised through the Subaru Share the Love Event and Groove Auto decided to match that amount with funds from our Drive for Education program. We are honored to support such a vital organization, right here in our backyard and do our part to help preserve the beauty of our National Forest.
---
First Friday - Melinda J
On the first Friday of every month Silverthorne in Colorado holds what they call "First Friday". This is to bring the community together to do something that benefits the lives of the people living in this city. On Friday March 4, 2022 we sponsored a Rail Jam that was held at the Performing Arts Center in Silverthorne, CO. The Rail Jam is a competition between local skiers and snowboarders where they can show off their skills on a jump and on a rail. It's a lot of fun and brings out so many people to an outdoor event that is obviously very important to the community being a ski town. Groove donated $5000 to this event to help highlight local athletes and under funded youth athletes in the county. This is our 3rd year holding the rail jam and hope to continue for many years to come.
---
Subaru Loves Pets - Summit County Animal Shelter - Lisa S
In early September our Animal Control got a call about two puppies abandoned in a box by a dumpster. This is uncommon for our area. Upon arrival it was clear they were both very ill. The shelter set up arrangements to get them to an emergency vet in Denver. They were diagnosed with Parvovirus and began around-the-clock treatment. One puppy did not survive. The other puppy, named Copper, pulled through and soon returned to our shelter to continue treatment. He was on a strict quarantine due to Parvo being contagious and life threatening. A select few dedicated staff members and volunteers spent time with him so he could feel love and companionship. About two weeks later, once he was stable, yet still contagious, we lined up a foster home for him. This lessoned the chances of more shelter animals becoming ill while also getting him into a more comfortable environment. Over the next month he continued to gain strength and his goofy puppy personality began to shine. Now about 4 months old, he was well enough to get neutered. His foster family brought him to the shelter for his surgery. The staff was about to start asking the foster family all about what they had noticed about him in their home, so we could pass that information on to potential adopters, when they informed us that they would love to adopt him! A Foster Failure is the best kind of failure and what we were all hoping would happen too. He was officially adopted mid-October, about a month and half after being found near death. If it were not for generous donations like that given to us by Subaru, we would not have the resources or funds to provide the high quality and critical care some of these animals are in dire need of. This abandonment tale also ended up being a front page story for our local newspaper in an effort to educate our community about resources available to them if they are in a position where they can no longer care for their pet. The positive outcome was the cherry on top to it all. Again, only made possible by the generosity of our compassionate community.
---
Friends of the Dillon Ranger District - Emily B
In 2020, despite the pandemic, Friends of the Dillon Ranger District (FDRD) was able to accomplish huge improvements to several of our local trails, camping areas, and wildlife habitats, as well as educate hundreds of locals and visitors on the sustainable management of our National Forest. Thanks to funding from Subaru's Share The Love program and our local dealership, Groove Subaru of Silverthorne, FDRD hosted over 50 volunteer projects based around forest stewardship. We removed old barbed wire fencing in Acorn Creek, to enable elk and moose to roam freely without being caught. We improved over 600 feet of trail in the Soda Creek/Groovy Uvi area, as well as built a new bridge, and just under 1 mile of brand new trail. We rehabilitated 8,700 square feet of illegal campsites in Peru Creek, and collected hundreds of thousands of seeds at Copper Mountain, to be used for restoration efforts. We improved drainage on the first mile of the CO Trail at Gold Hill by constructing a rock wall and digging 20+ drainage dips, and constructed a 24 foot natural turnpike on a very muddy section of the Spruce Creek trail. FDRD volunteers additionally patrolled over 1,500 miles of trail as a part of our Volunteer Ranger Patrol program and picked up over 130 bags of trash at trailheads as a part of our Adopt-a-Trailhead program. Learn more about the local forest stewardship accomplishments that Share the Love donations helped fund here: https://fdrd.org/summer-2020-accomplishments/ THANKS, GROOVE SUBARU OF SILVERTHORNE!!!!
---
Vista Subaru Supports Shelter Pets - Lesley H
Summit County Animal Control and Shelter was very fortunate that Vista Subaru of Silverthorne chose us to be part of the Share the Love Event. The kind people of Subaru delivered us a check for $4,161. This money will fund medical treatments for shelter animals such as spay and neuter, dental, health exams, and diagnostic testing. We are very grateful to be a recipient of this very generous donation which will help make our shelter animals healthy, thereby, helping them to find their forever homes. THANK YOU SUBARU!
---
Drive For Education - Julie M
Vista Silverthorne supports our county and with every car we sell we save $10 towards our schools for Drive for Education. Visa Silverthorne is very excited to be able to help our county and kids out and look forward to helping our community each year.
---